Payment methods
The ShoeCare-Shop offers you a number of safe payment methods.
Creditcard and Debitcard:
In our shop you can pay by Creditcard and Debitcard. We accept all cards Verified by VISA and with MasterCard SecureCode.

PayPal:
It is also possible to pay your order via PayPal. You need a PayPal account to use this payment method.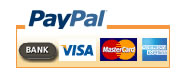 Payment in advance by wire transfer:
You can pay your order in advance by transferring the total amount of the order, and stating your ordernumber, to our bank account in the Netherlands. Company name: The ShoeCare-Shop, these are our bank details: IBAN NL40RABO0126653011, BIC RABONL2U.
Shipping Costs
We ship UK orders at a standard rate of £9.99. Shipping on orders from £80 to £120 are £5.99, above £120 we offer free shipping.
Country
Tier 1
Tier 2
Tier 3
Days
United Kingdom (International Parcel service)

£0 - £80

£9.99

£80 - £120

£5.99

£120+

FREE SHIPPING

Aprox.
3-4 days
Freight Forwarding Companies
Distinctly Different does not to work with any freight forwarders because our (shoe care) products often require additional documentation to pass through customs. Therefore we work with selected shipping companies to ensure your order arrives at the requested location. If there are any issues with the shipment of your order we can in most cases resolve the issue promptly since we have a great deal of experience working with our shipping partners. If we notice that an order is shipped to an shipping forwarder address we will cancel the order and refund your purchase.
If an order going to a freight forwarder slips through our address screening, note the following: We are not responsible for items that arrive damaged or missing. We are not responsible for any additional shipping charges that may occur if you ship with a freight forwarding company. We will not provide additional information to freight forwarding companies. No refunds will be made for damaged items.
Return Policy
If you want to return an order, please make sure to return the goods within 30 days to get a full refund or to change an product. When you want to return your order to us please make sure to notify us by email at: support@distinctly-different.com so we know we can expect your package.
Our return address is:
The ShoeCare-Shop
Smitsweg 2
3317NK Dordrecht
The Netherlands
Changing products
In case you would like to change an product because you accidentally ordered a wrong size or you ordered the wrong product altogether you can simply return the product(s) to us. Please enclose a note in your package with your order number and description of the product you would like to change. Also make sure to wrap the return products to protect them from damage during transfer. Preferrably in the same box they got delivered in. As soon as we have received your package we will check if the requested is still in stock and confirm the return shipment. We usually contact you on the same day as your package comes in. We will also send you a new tracking code to confirm that we have shipped your new product(s) to you. We do not refund any costs made returning your order to us.
Refunds
In case you want to have your purchase refunded you can return your order to us within the 30 day return period and we will refund your entire purchase including original shipping fee to your account within a 14 day period. We refund the money to the same account as you made the payment with. Please make enclose a note in your package with your order number and to wrap the items carefully. Preferrably in the same box they got delivered in to ensure they arrive safely. We will contact you as soon have received you package and have refunded your order. Please note that we do not refund any costs made returning the goods to us.